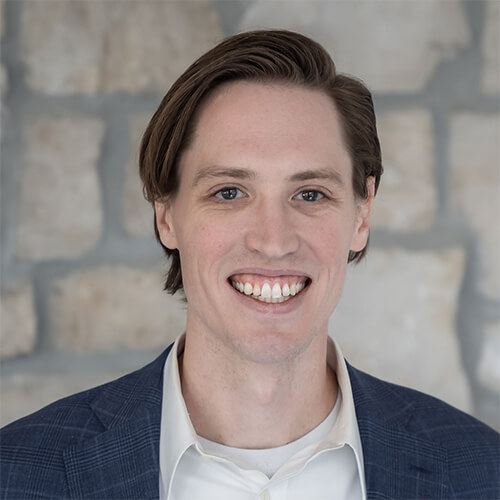 Jake moved to the Kansas City area in April of 2020 settling down in Lenexa with his wife Mallory. They barely had time to get settled before they welcomed their first-born son Harry to the family. While he originally moved up to KC from Wichita to pursue a job in Supply Chain it did not take long for him to realize that real estate was a true passion. Utilizing his degree in economics from KU Jake's focus is to ensure that his clients maximize value in every real estate transaction they are working on. When he is not working Jake enjoys hosting watch parties for the big games or rolling some stones down at the bowling alley.
What People Are Saying
"Elizabeth was an absolute professional during the entire purchasing process. She listened to our needs and was able to send us wonderful properties to review. Once we found a property we were interested in viewing, she was able to show it to us with
…
only a few hours notice! Amazing job! When we decided to put an offer in, she was able to negotiate quickly with the seller and worked long hours into the evening to send us the contract. She answered our questions in a timely manner. As a result of her hard work and patience, we were able to purchase the property! She was by our side every step of the way, which made a huge difference. I would highly recommend Elizabeth to anyone looking for a new home or investment property."
"Elizabeth was fantastic to work with and made the home buying process painless and fun, even mid-pandemic! She helped me find and close on the ideal home in record time. I will definitely recommend her to local friends that are interested in buying o
…
r selling a home."
"As a first time home buyer my wife and I were so glad to work with Paige. She made sure we didn't feel like a burden and led us through the home buying process with kindness and confidence. Paige was quick to answer questions, calm our nerves, and wo
…
rk with us to find a perfect home. She is knowledgeable, personable, and a lot of fun to work with! We would highly recommend working with her."
"Our experience purchasing a home with Paige Jenson was great! As first-time home buyers, we knew very little about the process of buying a home and Paige was extremely helpful guiding us along the way. In the midst of a wild housing market and strict
…
COVID restrictions, Paige worked diligently and found us exactly what we were looking for. With the help of Paige's insight into the KC market, our very first offer was accepted over several others! We are very satisfied with our purchase and are very thankful for the work Paige did for us throughout the process!"
"Garrett is full of energy, eager to show and plan for both buying and selling. He had great availability, performed all the tasks of submitting bids, receiving bids and assisting with inspections and inspection results in a knowledgeable, efficient,
…
and timely manner. Most of all, he is a very nice, friendly guy who is very enjoyable to spend time with looking at houses and planning to sell houses. I highly recommend him as a realtor!"
"Honestly, I couldn't have been happier with our first time home buying experience. Garrett truly out did all expectations we had. We are very grateful for his help during the process! He is just so kind and so caring too."
"Garrett helped my husband and I find our dream home! We were looking for a home on acreage that we could grow into. He does a wonderful job of showing diverse properties based on what you may be looking for; for example an apartment in the city, a fa
…
rmhouse in the country, or anything in between. He cared for us, genuinely listened to our desires, and went above and beyond to ensure that we were starting our next chapter in the home of our dreams. I can tell this process means more to him than simply finding you a house. He is right there to walk the journey of creating a home with you. We have been blessed by him and would recommend him to all!"
"The experience we had with Austin was truly amazing. He helped us sell our home and buy our new home. Austin was very responsive and helpful in the process. We had to act quickly in the current environment and were able to secure our new home at a gr
…
eat price. He guided with us through the entire process to ensure a successful and timely close. Our current home needed some updating before putting on the market. Austin did not disappoint! He exceeded our expectations with all of the guidance around updating the house and getting it ready to list. His recommendations were very helpful and allowed us to complete the project timely and on budget. He hired an amazing photographer to take spectacular pictures of our home setting it up for a successful showing. Through his amazing efforts we accepted an offer over asking. I know without him, we wouldn't have received such an amazing offer. During both the buying and selling processes, he always made time for us. We felt so comfortable with him during the entire process as no question was too small. His experience as an agent is invaluable. We would highly recommend him to anyone looking for a truly amazing realtor."
"I have bought 2 houses and sold 1 with Austin. He priced our offers and sale perfectly, we got exactly what we wanted all 3 times. He is an OUTSTANDING realtor who is not only knowledgeable and kind, but incredibly available. He has a great team and
…
they really do go the extra mile!"
"Austin was amazing to work with! He is tremendous at what he does and puts your family first to ensure you are able to get the home that you love. He will never pressure you and will remain calm through the entire transaction. Austin is amazing at wh
…
at he does and you will not go wrong with him on your side. Keep up all of the great work Austin!"